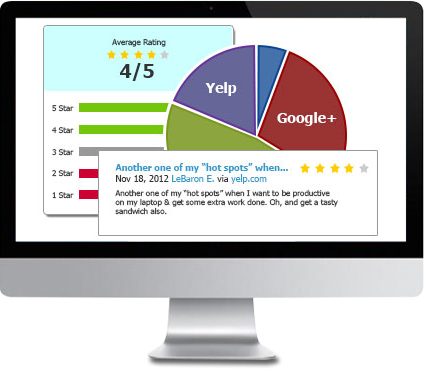 You will be surprised to know that users are more likely to leave a review about their bad experience. You can have years of experience in your market and thousands of happy customers, but just one unsatisfied client might leave a disappointing review and ruin your online reputation forever.
That's why it's so important to keep track of your online presence and take necessary actions immediately when you notice any issues.
All websites have:

Domain and hosting for 1 year
SEO ready
Responsive design
Domain and hosting for 1 year
SEO ready
Did You Know That
of consumers search for products or services reviews in their area
of customers agree that online reviews influence their purchasing decision
of online consumers place trust in reviews they find online
of consumers reach out to social networking sites before purchasing
Have You Searched Your Company Name Online?
There Are 4 Possible Scenarios You Could See
What Is Your Online Reputation Score?
The category you land in can have a big impact on the impression you make with people searching for you online.
What we will do for you?
1. Audit
We will implement a deep analysis of your online presence. During this audit, we determine all recourses that contain information about you or your business that may have an impact on your reputation. Based on results of the reputation audit, we will build a strategy to recover your negative online reputation and find out the best monthly marketing budget for you and adjust it accordingly based on your business goals.
2. Promotion
Depending on the results of the audit, if you have any positive reviews online, we will start to push positive listings up in search engine results. At the same time, we will push down any negative reviews to prevent prospects fr om discovering them. Our methods are based on SEO techniques, which give us the ability to influence a website's search engine ranking results.
3. Results
After the main step, we will again conduct a thorough audit to measure the results of work completed and to determinate if there is anything else left online that can affect your company reputation.

In reality, having no reputation can affect your business flow just as much as a bad reputation. Customers are most likely to choose those who've got positive publications then no reviews.
What we will do for you?
1. Audit
We will begin with a deep analysis of your online presence to make sure there is nothing online that can affect your reputation, and if there is anything that we can utilize to gain a positive influence.
2. Promotion
If we find that there is nothing about your business on search results that are not relevant to your business, then first we will optimize your company website to make sure your clients find it first before any other companies with similar names. With that, we will also optimize your social media pages so that they are more discoverable by your customers and to help you generate positive brand presence with your social media. After that, we will proceed with building a strong positive reputation background for you and apply our reputation management methods to push positive results up in search engines.
3. Results
After the main step, we will conduct another deep analysis to measure the results of work done and to determine if there is anything else left that we can implement in order to help you with your online presence.
First, we congratulate you on your great success. However, you need to keep in mind that your reputation background is growing with every new review, and your online presence can change any time. That's why we strongly recommend you to monitor your company's reputation in order to take necessary actions in case of any issues.
What we will do for you?
We can conduct a thorough analysis of your online presence every month to ensure your reputation stays as great as it is. We will alert you once we discover anything that needs to be fixed!
All our quotes and prices are custom based
The information collected is intended for business use only, and is not subject to disclosure. We will not sell or pass your information to any third party, but please note that we may contact you directly if required regarding your proposal or any related business.
We process all submissions and quotes manually to better prepare a personalized SEO proposal for every client with a detailed action plan, pricing, and timeline. Our current average response time to quotation requests is 3-4 business days. Please note that any missing or un-entered fields of information may cause a delay in responding to your request.
If you have an urgent request, please contact us at +1 (647) 560-9548, or please let us know in the email request, and we will do our best to respond within 24-48 hours.