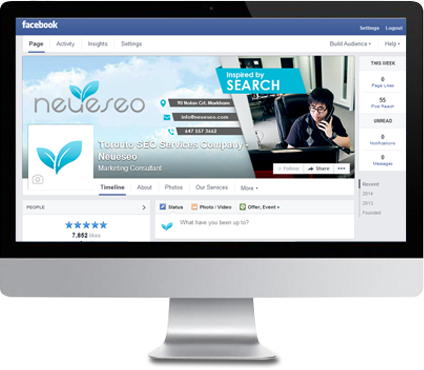 There is no doubt that social media is now a strong part of our life. And it's not just a great source of communication but also great market place. Social Media platforms give business opportunities to find clients, to know their opinion, to share and talk to them. We Know SEOis able to assist you with your social media presence, strategy development and accounts maintenance to help you get your social media client's attention you deserve.
Social Media platforms we work with:

Linkedin
Facebook
Twitter
Google +
Did You Know That
of all internet users are now active on social media
of social network users prefer to connect to brands through Facebook
of marketer states using social media marketing increased their lead generation
of users said social media business page influence their purchasing decision
Why Choose Us?
We are local, 100% canadian and never outsourse
We are the team of experinced profecionals
Our main focus is results and we deliver them!
We provide integrated internet marketing approach
We use advanced Social media tools and software
We belive that your success is our success.
The Benefits of Social Media Marketing
Brand Building
Promoting a positive brand image will increase a potential customers confidence in your business, and therefore increase sales.

Personal Touch
People who trust and like your business will remain as loyal customers even if your prices or services change.

Conversations
You will get the opportunity to listen, hear and talk directly to your clients/customers in a more personal manner, thus increasing reputation for your business.

Natural Advertising
People will recommend you to others just because they support your business.

Website Advertising
Social media can help increase your website traffic by providing a more personalized approach to prospects.

Larger Reach
Social media will give you the chance to reach millions of potential customers all over the world.

Social Networks We Work With

Our Services Include
Let us handle your business's social media management, so you can focus on doing what you do best – making your business successful!
1. Personal Consultant
First of all we will assign you a team member – dedicated personal consultant who will manage your campaign and assist you with any questions you have. Your personal consultant will provide you with your competitors' social media presence research and analysis. Based on that together you will determinate your social media goals and build a strategy that will fit your business size, goals, and of course budget.
2. Social Media Page Design
Then we will set up accounts (if necessary) and built custom social media pages including a branded cover photo, background, profile image and unique page descriptions ("About us") for all chosen social networks to match your existing brand and personality. profile image and unique page descriptions ("About us") for all chosen social networks to match your existing brand and personality
3. Fresh (unique) content
According to established strategy we will create unique social content based on your industry that will result in engaging content for your followers and fans. We will also share content that we feel your audience will be interested in.
4. Maintainence
If your prospect or customers are commenting, sharing or reviewing your page it's important to jump into conversation immediately. We will quickly response to all interactions, track positive interest to your product/service and deal with negative posts (reviews or comments) of your customers to convert them into positive and reduce their negative impact.
5. Analysis
In the end of every month we will provide you with itemized report explaining details, statistic, issues, results and achievements of campaign. Report shows the goals which were setup in the beginning of campaign and results of their achievements such as fan and follower growth, new likes, impressions, engagement and total reach.
6. Promotional Campaign
Now we need to build you a strong fan (follower) base. In this step we will develop and launch campaigns to attract new followers and to get your followers to refer their friends to your account. We will also setup and maintain social media paid ads campaigns based on your established social media strategy to attract new fans and customers.
Have You Heard Of PPC For Social Media?
Free Facebook PPC campaign setup
Website and SEO done by us not only bring you clients but also save you money.
Thank you for your interest in We Know SEO!
The information collected is intended for business use only, and is not subject to disclosure. We will not sell or pass your information to any third party, but please note that we may contact you directly if required regarding your proposal or any related business.
We process all submissions and quotes manually to better prepare a personalized SEO proposal for every client with a detailed action plan, pricing, and timeline. Our current average response time to quotation requests is 3-4 business days. Please note that any missing or un-entered fields of information may cause a delay in responding to your request.
If you have an urgent request, please contact us at +1 (647) 560-9548, or please let us know in the email request, and we will do our best to respond within 24-48 hours.