You've probably heard that local SEO is one of the most effective marketing channels for small businesses. But, the question is, why?

One of the key issues facing small businesses, especially those in the early stage, is limited budget.

To get more revenue, we obviously need marketing. On the other hand, with the limited marketing budget, there's only so much we can do to compete with bigger and older businesses.

This is why, one of the most common questions we get from small businesses is: what is the most cost-effective marketing channel I can use? Or something along that line.

The harsh truth is, there's not a single best answer for this question, as every marketing channel has their own pros and cons. However, local SEO is probably very close: it's affordable, it has a great ROI, and it's relatively easy to implement.

So, in this guide, we will learn the importance of local SEO for small businesses, and how we can implement it to achieve growth. Let us begin.
What Actually Is Local SEO
To really discuss local SEO, we must first briefly discuss the definition of SEO in general.

SEO (Search Engine Optimization) is in essence, a series of optimizations on-site and off-site to get our website or a specific page to rank on the search engine results page (SEO) for a specific search query (keyword).

Local SEO, on the other hand, retains the same concept, but the main difference lies in the target keyword.

Local SEO focuses on local-related keywords, which typically includes city/state names, zip-codes, and other geo-qualifiers. For example, if our target keyword is "digital marketing", then we are attempting regular or organic SEO. If, for example, our target keyword is "digital marketing in LA", this is local SEO.

In the past, there's not much difference in approaches between organic and local SEO. However, quite recently there was one major change in Google SERP that drove the evolution of local SEO:

Now, Google features results from Google Maps for local keywords. In fact, these Google Map results are placed above the top organic-ranked result and just below the paid search ads.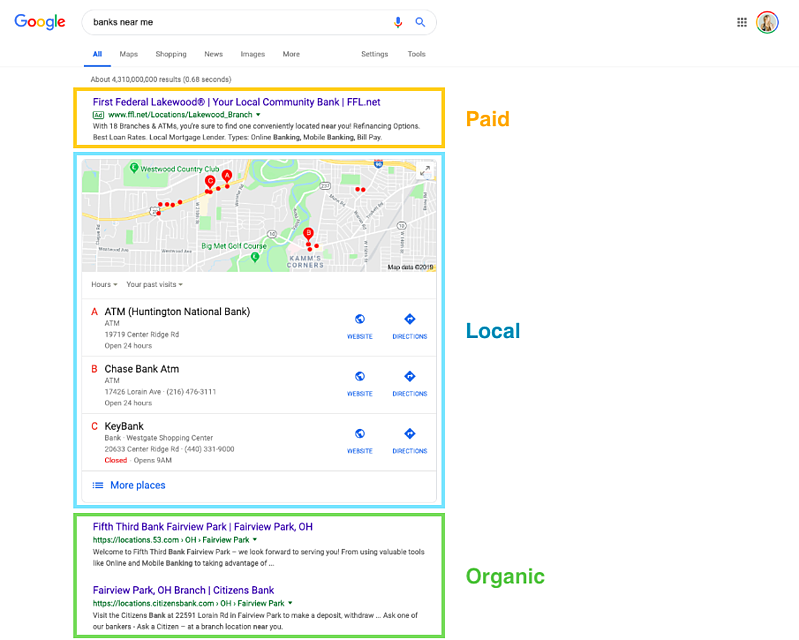 So, nowadays, a significant part of local SEO is to rank on Google Maps, which will require a very different approach compared to regular SEO. In this guide, we will discuss this approach.
Why Local SEO is Important for Small Businesses
Now that we've discussed the basics of local SEO, let us address the elephant in the room: what kind of benefits will local SEO bring to small businesses?

Below are just some of the important statistics that will affect the performance of your local SEO:

According to BrightLocal, 86% of surveyed customers will turn to the internet (which, the majority will do a Google search) when trying to find a local business
According to Google, 46% of searches on their platform are made with local intent.
72% of consumers who searched for local business will visit that store if it's within 5 miles.
According to Google, 28% of local searches result in a purchase

More than 50% of local searches result in a store visit.
More and more people are using "near me" search queries when trying to find local businesses, especially with mobile and voice searches.
In short, if you are targeting local audience, local SEO will tremendously help in building awareness and increasing conversion rate. Still not convinced? Here are some top benefits of local SEO compared to other marketing channels:

Cost:When done right, local SEO is 100% free (outside labor costs).
Ease: Local SEO is relatively easy to implement. It doesn't require a rocket-science level of technical knowledge, just diligence and consistency.
Local Presence: With the facts above showing how the local audience now relies a lot on Google Maps results, local SEO is one of, if not the most effective way in building local awareness
Effective Conversion: In the interactive Google Maps result, searchers can directly call your business, visit your site, or ask for directions with a single click.
Sustainable Results: Once you are ranked on the top 3 of Google Maps results, it is relatively easy to maintain your position compared to, for example, placing an online ad where your competitors can outbid you.
Implementing Local SEO
Above, we have discussed that implementing local SEO is relatively easy compared to other marketing channels. So, here we will discuss how we can implement local SEO to our businesses.

As discussed, there are two main goals of local SEO:

Ranking on Google Maps
Ranking on organic search for local keywords
Arguably, ranking on Google Maps is more beneficial nowadays since the Google Maps results are placed above organic results. However, aiming for both will allow you to maximize your results by getting traffic from both sources.

As ranking for Google Maps and organic search will each require different approaches, we will discuss them separately. First, let us learn the key steps in ranking on Google Maps.
Ranking on Google Maps
Before we begin, there are several important things to know when discussing local SEO for Google Maps ranking:

1.The 3-Pack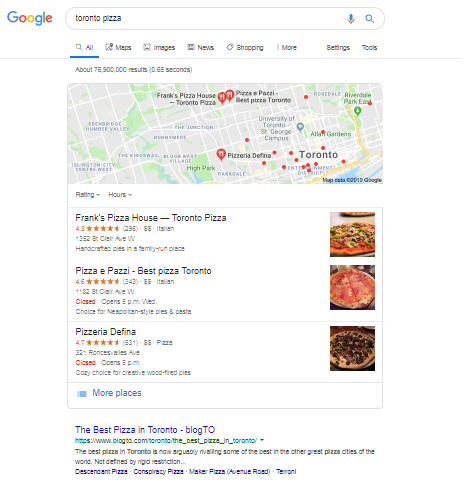 In the past, Google featured 7 business listings with each Google Maps result. However, now Google only displays 3 before users will need to click "more places".

So, our aim is to reach for this top-3 spots, or as most people call "the 3-pack". The business listed in the 3-pack will have significantly more exposure compared to others, which will lead to more conversions.

2. Google My Business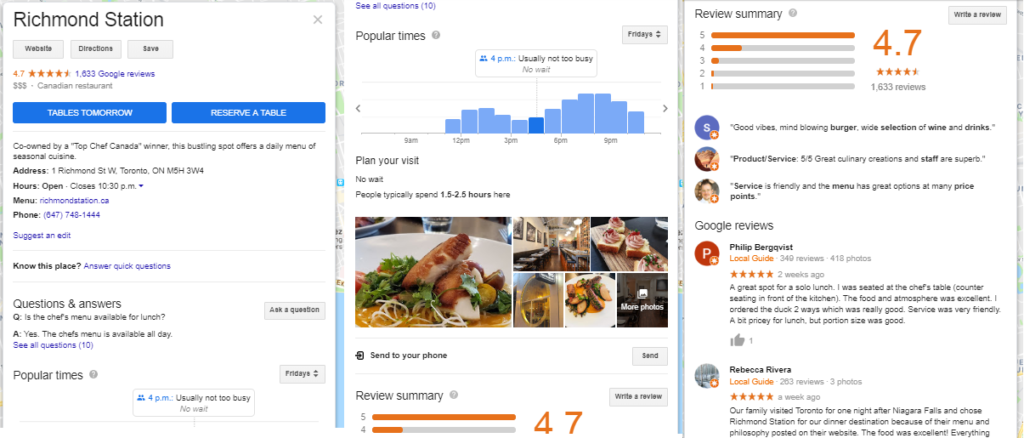 In organic SEO strategy, the subject of our optimizations is our website, which can either climb up or down the search results page. However, Google Maps results are not directly tied to our site, but to our Google My Business listing.

Simply put, to rank higher in Google Maps, we will need to have an optimized Google My Business listing, among other factors.

3. Keyword Inclusion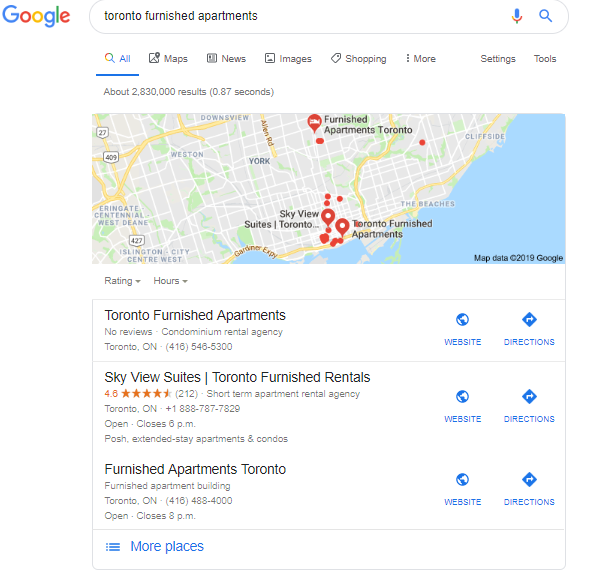 Keyword optimization is one of the most important ranking signals in organic SEO. Yet, in Google Maps ranking, keyword optimization is not as prevalent.

That's not, however, saying that you don't need to include keywords at all. Naturally use keywords within your Google My Business listing and your local-focused content with the aim to please human readers.

Important Google Maps Ranking Factors
We have learned that one of the most important ranking factors for Google Maps result is the Google My Business optimizations. Yet, that's not the only one.

According to a study by Moz, here are the top 6 ranking factors for Google Maps ranking:

Google My Business optimizations. This will include accurate NAP information, your proximity to the searcher, usage of keywords in business name, relevance of categories,etc.
Backlinks. Google will crawl your website's URL (which should be included in your Google My Business (GMB) listing to check for relevance.
Reviews. The quantity of positive reviews, diversity of review sources, frequency, etc.
Citation. The quantity of local citations, consistency of NAP information.
User Behaviors. Click-through rate, request for directions, phone calls from clicks, etc.
Social Signals. Engagement on social media platforms.
Based on these ranking signals, below we will (finally) learn the key steps to climb the Google Maps ranking.

Key Optimizations for Google Maps SEO
1. Register and Verify Your Google My Business Listing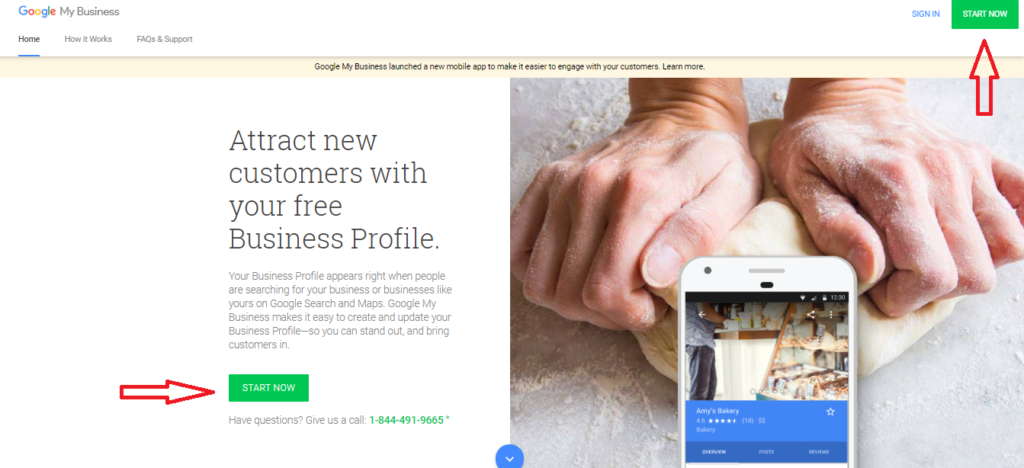 The first (and arguably the most important) step here is to claim your Google My Business listing. The process is fairly simple, and you can click here to get started right away.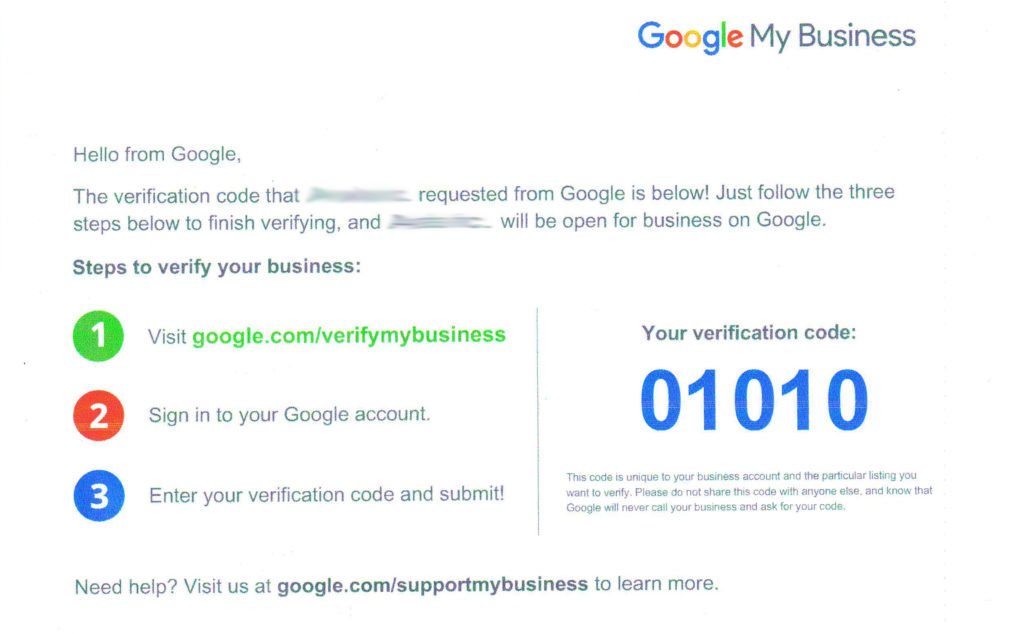 You will also need to verify your listing, as unverified accounts will be locked out from several features (i.e., Google Posts). Normally, Google will send a postcard containing a verification PIN, but you can also verify your listing via email or phone, depending on your business type.
2. Optimizing Information
Google My Business is, in essence, a platform where you put your business information on the internet. So, these information pieces will be the key in optimizing your Google My Business listing.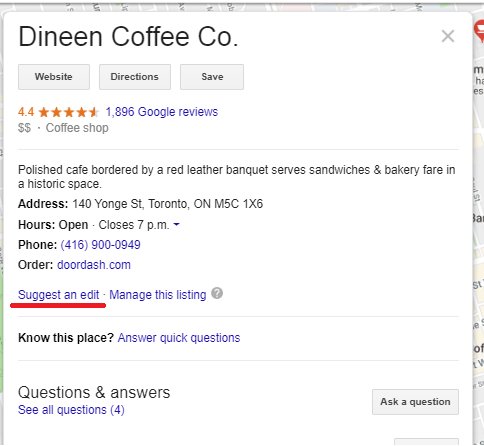 One thing to note when discussing GMB information is the fact that other users (yes, even random people that don't know your business) can "suggest an edit" on your GMB listing. Google will review these suggestions, and can change any information without notifying you first. So, it is very important to get your business information right in the first place to avoid these edit suggestions.

Validity of your information, as mentioned, is also one of the most important ranking signals. Here are the key areas to focus on:

NAP Information: NAP stands for Name, Address, and Phone Number, three pieces of information that are vital for any business. Make sure your NAP is accurate, complete, and up-to-date, and make sure your NAP information is consistent across the internet.
Website URL: Pretty self-explanatory. Google will crawl your site and check for relevance.
Description: Keyword optimization here is not as important as, say, including keywords in your site's meta description. Your main goal here is to provide accurate information, as well as attracting your audience. Include your keywords naturally and sparingly, focus on engaging human readers.
Categories: Select one main category which best represents your business. You can also choose several subcategories, which is a good opportunity to attract a wider audience.
Attributes: Use attributes to highlight unique features of your business. For example, whether you provide an outdoor area or if you offer the unisex toilet.
Photos and videos: Google themselves reported that businesses that feature photos get 40% more conversions. Use appropriate, well-taken photos that are taken on your premise or at least nearby (so Google can verify the location metadata). You can also upload videos of up to 30 seconds long. Again, focus on attracting human audience.
Optimizing your GMB listing's information can be a very broad subject on its own, and you might want to check this guide by Neil Patel to learn further.

3. Getting More Positive Reviews
Online reviews are not only important for ranking purposes, but also very valuable assets to encourage conversions.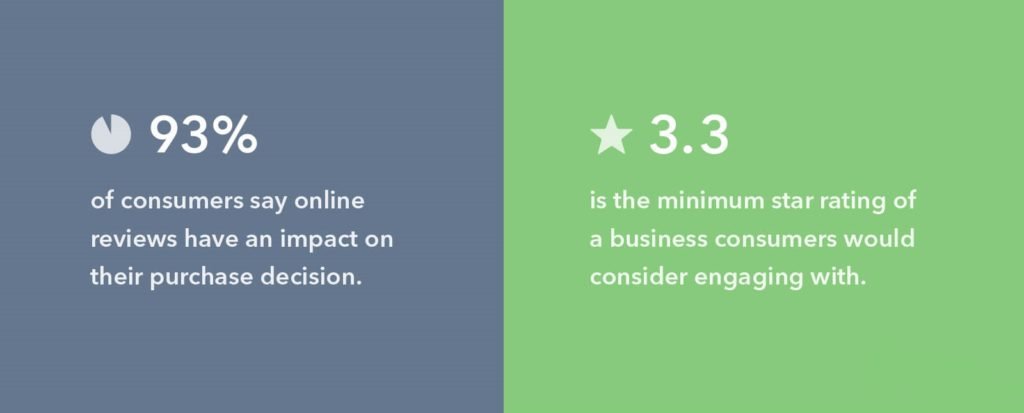 93% of surveyed customers used reviews to choose local businesses. So, managing your online reputation is very valuable nowadays.

Yet, the question is, how can we get more positive reviews? Generally, there are three main approaches:

1. Asking at the right time. Ask your customers for a review when they indicate positive experiences. For example, you can ask customers that just made a repeat purchase. Asking at an inappropriate time not only can lower your chances, but might result in the user leaving a negative review instead.

2. Offering Incentives. Another common (and effective) practice. You can offer incentives in exchange of reviews (or social media mentions). For example, you can offer discounts or freebies.

The key here is the incentive: offer too little and it might not be interesting, offer too much and it might hurt your profitability. You will need to properly understand your audience and make the right offer.

3.Responding to existing reviews. Yes, always responding to even the negative reviews will encourage more people to leave a feedback.

The reason is simple, if your audience sees that you always answer to existing reviews and especially properly addressed the bad ones, they will feel that their issues will be heard (and their appreciation will be appreciated). So, respond to ALL reviews politely and quickly, and don't offer promises you can't deliver.

It is also important to properly discern between valid reviews and fake ones (often with malicious intent). With sufficient proofs, you can ask Google (or the review platform) to remove fake reviews. You might want to take legal actions for malicious attacks, depending on the severity.

Although you should mainly focus on getting reviews on your Google Maps listing, third-party reviews are also accounted for. Aim to get as many reviews on as many relevant sites that you can.

4. Building Local Citations
Local citation is, by definition, any mention of your NAP information on the internet. You can get citations when other sites (including press) mention your business, but we mainly attempt local citations building by listing our NAP on online directories.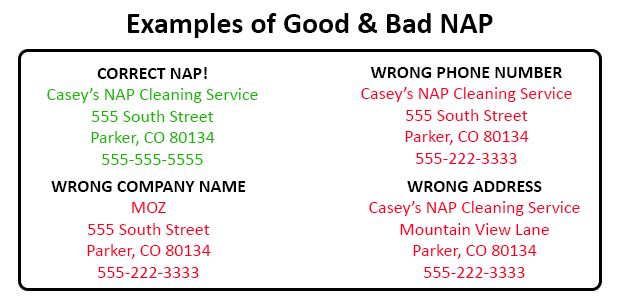 There are three different types (or "class") of local directories to focus on:

Google My Business, the most important directory for local SEO purposes.
Major business directories like Yelp or Facebook Places. You might want to check this list by HubSpot to find these platforms.
When building local citations, the most important thing to keep in mind is to maintain information consistency, especially for your NAP. Inconsistency of information can lead to confusion, and might result in hurting your Google Maps ranking.

Ranking On Local Organic SERP
Aiming to rank on the organic SERP for local keywords will require a very different approach than optimizing for Google Maps ranking.

The process will be mostly similar to organic SEO, so you might want to check out our previous guide here.

However, here are a few important areas to focus on with regards to local SEO:

1. Create Specific Location Pages
If your business serve multiple areas (especially multiple cities), create specific landing pages for each location. This way, you can optimize keywords with each landing page, and you can also embed Google Maps coordinates for each location.

Embedding Google Maps location will give you a huge boost in relevance, which can also affect your Google Maps ranking. Embedding Google Maps is fairly easy, and you can follow Google's guidelines here.

Don't forget to optimize your URL, for example:

yoursite.com/city-1
yoursite.com/city-2

and so on.

This practice will also allow you to rank organically in areas where you don't have a physical address.

2. Local-Focused Content
In the past, we can get away with publishing content stuffed with city-names and location-related keywords to get ranked locally.

These days, we will need to actually publish content that is relevant and valuable to our local audience, which will require creative approaches.

For example, you can publish a content listing all the important events in your area. You can also publish content as a tourism guide for your area, listing and discussing the interesting spots in the city.
So, don't focus on just selling your product/service, but aim to be the local expert/authority to attract the local audience.

3. Keyword Optimizations
The main principle, as before, is to include your keywords naturally and focus on human readers. Google nowadays is also very sensitive with over-optimizations, so it is wise to use semantically-related phrases instead of using exact-match keywords all the time.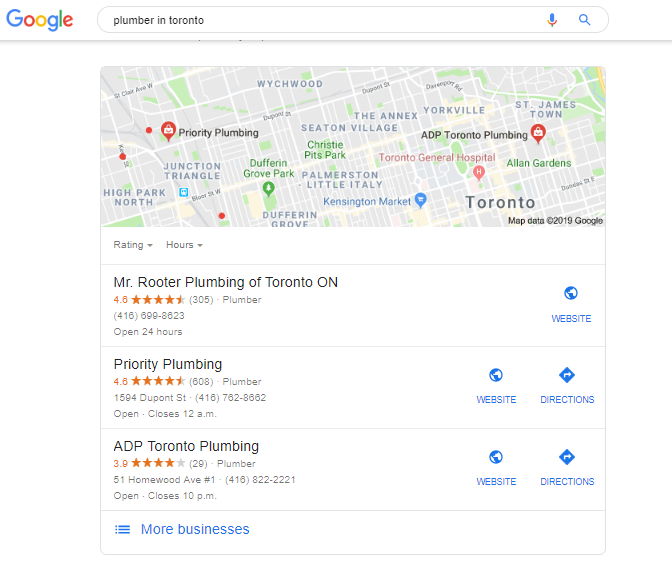 For example, if your target keyword is "restaurant in New York", you can use phrases like "the best food in New York" or "best pizza (depending on the food you serve) in New York".

You should especially focus on optimizing keywords in these areas:

Title tags
Headings
Meta description (very important to maintain natural keywords usage here)
Body of content (again, make sure to maintain value for human readers and use your keywords naturally)
4. Optimizing NAP
Make sure to use a text-based NAP information that is well-structured. Avoid using images as even though they are aesthetically pleasing, Google might have difficulties in parsing the information.

You can also add schema markup to make sure Google can index the NAP information properly, among other benefits.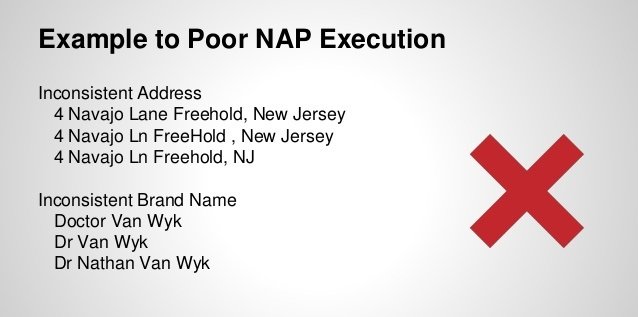 Again if, your NAP is mentioned on other places (citations, your GMB listing), make sure to maintain consistency. This will mean that if, for example, you just changed your business address, you will need to update all these listings (and contacting the webmasters of sites you don't have control of).

5. Display Your Reviews
You can display reviews (in fact, Google encourages this practice) from your Google Maps listing and from third-party sites. This won't only help Google in recognizing your relevance, but can also significantly help in conversions.

6. Technical Factors
While technical optimizations for SEO can be a very deep subject, and you can check out this technical SEO checklist to audit and optimize your site, here are the most important areas:

Mobile-friendliness. Google simply won't rank sites that aren't mobile friendly. Use Google's mobile-friendly test to check your site and adjust accordingly. You might want to upgrade your theme to a mobile-responsive one.
Load speed. Slow loading speed can significantly affect bounce rate, which is an important ranking signal. Check out these tips on how you can improve your site's load speed.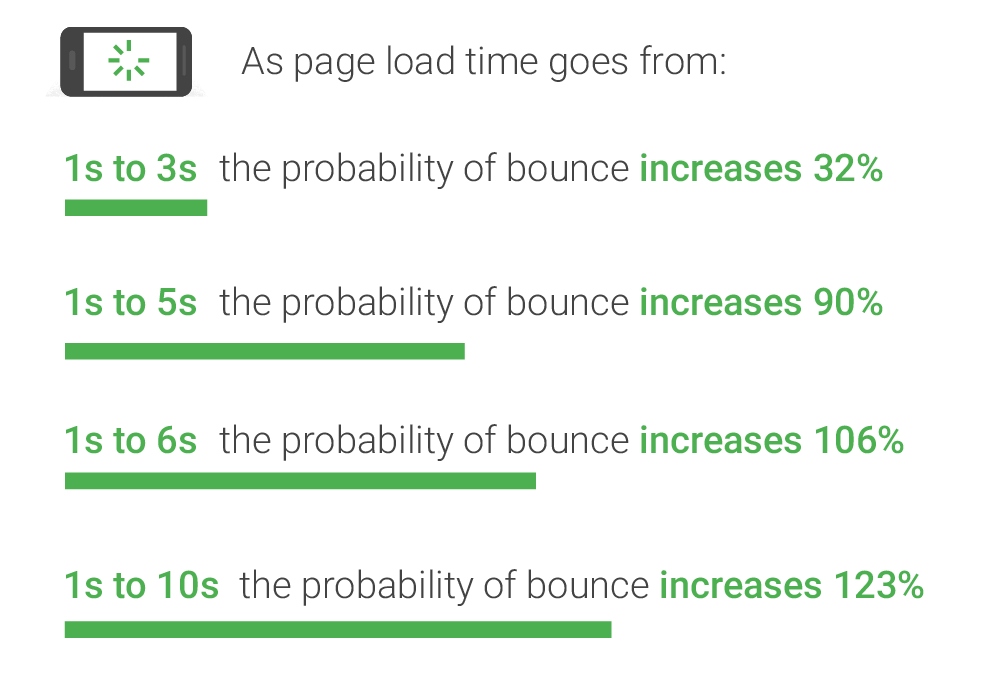 Migrate to HTTPS. Google prefers secure sites. In fact, Google can warn users when they are visiting non-secured HTTP sites, which can harm your traffic. Migrating to HTTPS can be a long and arduous process, but necessary.
7. Link Building
It is no secret that backlinks or inbound links are the core of SEO results.

Remember, however, that link-building nowadays is not always about quantity, as the quality and relevance of the inbound links are more important. For local SEO purposes, focus on getting links from local-authority sites, and you can use these approaches:
Citation building (discussed above) is a very effective way to get more backlinks from relevant sites.
Good content that is properly promoted will always get backlinks, sooner or later. There's no shortcut around this, so work on your content marketing game.
Build relationships with local businesses by joining trade organizations and events.
Approach prominent local figures from elected officials to local bloggers to press. Don't aim to get backlinks directly, but build healthy relationships.
Offer guest posts to local bloggers, and send press releases to relevant press
Depending on your business and niche, using influencers can be effective not only in getting backlinks but building more awareness
There are obviously other approaches you can try here, but the keys are to regularly publish relevant content and build relationships.

End Words
Implementing local SEO both to rank higher on Google Maps results and organic SERP can be very effective in encouraging growth for small businesses targeting the local audience.

As you can see, local SEO is fairly easy to implement, technical-wise, but will require consistency and hard work. However, as it is very cost-effective, local SEO can be a very desirable long-term strategy with a high ROI.