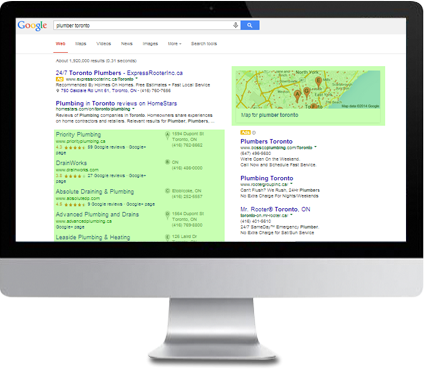 The local online marketing landscape is constantly evolving, and what's working in 2016 or 2017 might no longer work now in 2018.
So, the question is, how can we get ahead of our competition? One of the most effective ways for local businesses to get better results is through local SEO, and here, we will learn how to implement it.
Before we begin, however, let us address why local SEO is important for your business, and what benefits can you expect from implementing it.
Why You Need To Focus on Local SEO
In August 2015, Google made a truly significant change to local search results. Since then, when searching for local queries like "restaurants near me", Google will only show 3 results on the first page instead of 7 (which was the case before 2015).
Obviously this will mean that businesses outside these top 3 spots will get less exposure, and so, less traffic. With so many people using "near me" search queries thanks to voice assistants, this will translate to a significant loss in traffic, lead generation, and ultimately, revenue.
So, for the rest of this guide, we will learn 10 important tactics to get a better local SEO result.
10 Tactics To Improve Local SEO
1. Make sure you have a physical address in the targeted area
This might seems like a fairly obvious one, but you will need to have a physical address for the area you are targeting.
Generally, your physical address should be within the target area, or at least very close to the area.
2. Register and verify your Google My Business account
Google My Business (GMB) is now an integral part of local SEO, as only businesses with registered and verified Google My Business account can get the top ranking spots.
With a Google My Business account, any business information you add to it will also update your Google Maps, Google+, and Google Search Console accounts.
Here are a few key areas you should consider when registering or optimizing your GMB account:
Make sure the required information for your business is filled accurately and completely. Also, make sure it's up-to-date with your current information.
You will need to verify your Google My Business account. You can check out the necessary steps here, but usually Google will send a package on your physical address and you can use it to verify your location
Mention the specific town and city that you are targeting are mentioned in the landing page title for Google My Business
For the primary categories on the GMB, make sure they are consistent with your current product lineup and they match the intended search queries/categories.
3. Utilize Google Posts in GMB
Google Posts is a fairly new feature for GMB, introduced in June 2017. With Posts, businesses can now post updates about upcoming events, local offers, discounts, deals, and so on.
What's unique is that these posts will appear directly in the search results (SERP), and so can be a strong promotional channel even before the prospects visited your site.
This way, you can treat Google Posts as your local inbound marketing, as well as an information board. For more about utilizing Google Posts properly, you might want to check out this guide by BrightLocal.
4. Name, Address, Phone Number (NAP) Consistency
In local SEO, we will hear the term 'NAP' a lot because it is indeed a very important aspect. Your Name, Address, and Phone number should alway be consistent, not only throughout the Google My Business account, but also when you are listing your business on other directories, social media profiles, and review sites.
Make sure to always keep them up-to-date when there's any change, and again, consistency is key.
5. On-Site Optimization
Although on-site optimization can be a pretty broad subject, for local SEO, there are four key areas to focus on:
Include your main target keyword in the URL, but make sure to make the URL readable and comprehensive for human readers.
Use your target keyword at least one in the title. Generally, target keyword that is positioned at the front performs better. For example, if your focus keyword is "digital marketing", you can have a title like " Digital Marketing:10 Tactics to Increase Revenue".
Include focus keyword in one of the headings, and you can use secondary keywords and even long-tail keywords on headings and subheadings.
Include your main keywords and secondary keywords in the META description several times. As usual, make sure your META description is optimized for human readers.
6. Local Link Building and Citations
As with 'regular' SEO services, a strong link profile is a very important ranking signal. However, link building for local SEO is relatively unique since you can also build your backlink by building citations on local directories.
A quick Google search can let you find even hundreds of online local directories, depending on your industry. Build as many citations as you can, the more the better. The key here is to maintain consistency of Name, Phone Number, and Address across all listings.
Obviously, backlinks from authority sites and local media will also bring value to your local SEO results. It's important to remember that building backlinks and citations is a long-term process.
Be careful with anyone selling backlinks or offering secret "tricks" to link building. Not only they won't bring any results, they can get you penalized by Google if you are not careful.
7. Optimize Positive Reviews
Social proof in the form of positive reviews and user testimonials are not only a strong ranking signal for Google and Google Maps, but is also very valuable in influencing prospects to purchase from your brand.
Obviously, you should focus on gathering positive reviews on your Google Maps, but you can also use high-authority review sites like Yelp, Yellow Pages, FourSquare, TripAdvisor, and Angie's List among others.
Encourage your existing customers to leave positive reviews (especially on Google Maps). You might want to offer incentives like discount, free products, or other special offers in exchange off these reviews.
Also, address negative reviews properly, and our previous guide on online reputation management might help you in this aspect. (link)
8. Schema Markup For Local SEO
Before we begin this one, you might want to check out our previous guide on implementing structured data for SEO (link).
Essentially, structured data markup -or schema.org markup- is adding properties and/or attributions for all the different items on your site, with the purpose of making these items more recognizable and indexable by the search engines.
Schema markup is extremely powerful for SEO, as you can get various benefits such as being featured as rich results, featured snippets, and so on. But, currently only slightly more than 30% of websites are implementing structured data properly.
For local SEO purposes, structured data is especially useful to markup geo coordinates and other location-based properties. You can use Google's own Structured Data Testing tool to check your implementation.
While implementing schema markup can be a complicated, thankfully there are a lot of tools that can help with the process. For example, you can use Google's Data Highlighter to mark up your site with a drag and drop approach.
9. Landing Page for Each Product/Service
If you have several different products or services, create specific landing pages or sites for each of them. Make sure each of the page has their own relevant details and is targeting the right keywords.
Use a central page to link all these different pages together (i.e. a product list page), and you can summarize all your products or services in this hub page.
10. Monitor Your Progress
Remember that local SEO is a long-term game, so you will need to regularly monitor your progress. You would want to especially track your current ranking, search volume of your keywords, and device usage (whether people are searching from mobile or desktop).
You would also want to develop different page and keyword segments, so you can easily analyze when there's a traffic drop for certain keywords or pages.
To do this, you can either use the handy Google Analytics or other SEO analytic tools (link).
End Words
While local SEO might seems like a complicated process at first, it is actually pretty simple, as the ten tactics we have discussed above have covered the most crucial aspects.
In general however, local SEO can be summarized in just 3 steps: have a Google My Business account, build local citations, and get positive reviews. If you do these tactics consistently, you can expect to climb higher on the Google Maps results after several months, and you can even aim for those top 3 results.